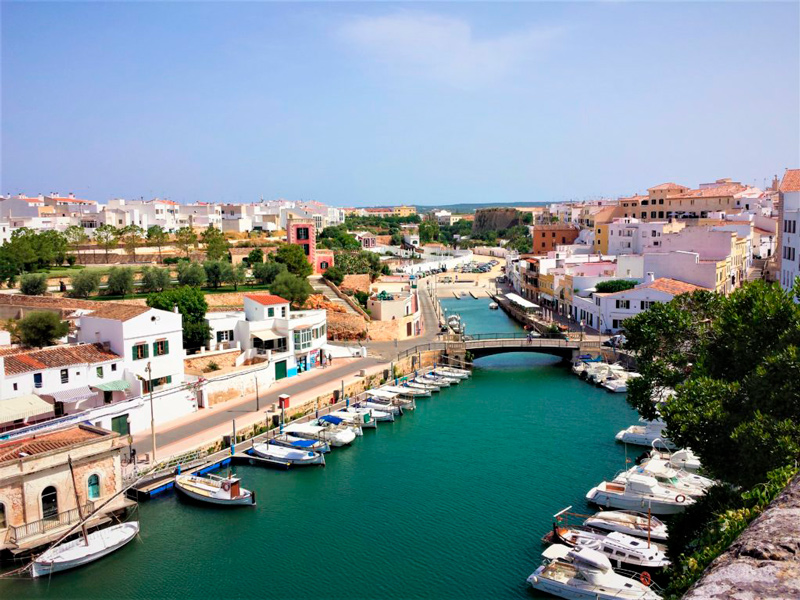 For lovers of tourism and new adventures! Ready to discover one of the best kept secrets of the Mediterranean? I'm talking, of course, about the fascinating island of Menorca. This Balearic jewel is a perfect destination for all types of travellers: nature lovers, history enthusiasts, tranquillity seekers and foodies.
Menorca is an island which, unlike its big sisters, Ibiza and Mallorca, has managed to preserve its natural charm and authenticity. Here, life goes at a quieter pace and you'll find yourself exploring unspoilt coves, charming villages and prehistoric monuments rather than nightclubs. Best of all, you can enjoy all these wonderful destinations at your own pace with a car hire in Menorca.
Menorca's Natural Treasures
Menorca is a natural paradise, with breathtaking scenery. These include:
S'Albufera des Grau Natural Park: A unique ecosystem in the Mediterranean, home to a great diversity of bird and marine life.
La Cova d'en Xoroi: A natural cave converted into a discotheque and bar, with breathtaking views of the sea.
Las Calas: Menorca has dozens of beautiful and quiet coves to enjoy a swim in crystal clear waters. Some of the most impressive are Macarella, Turqueta and Mitjana.
Menorca's Paradisiacal Beaches
On the island of Minorca you will find dream beaches, ideal for disconnecting and enjoying the crystalline waters of the Mediterranean. The following are not to be missed:
Cala Turqueta: With its white sand and turquoise waters, it is a true paradise.
Cala Macarella and Macarelleta: Two sister coves of incomparable beauty.
Playa de Son Bou: With its 3 km, it is the longest beach on the island.
The Historical and Cultural Wealth of the Island
Menorca not only offers natural beauty. Its history is fascinating and there are several places you should visit:
Binibèquer Vell: An old fishing village with narrow streets and whitewashed houses. An authentic labyrinth that seems to be frozen in time.
Talayots and Taulas: Unique prehistoric monuments in the Balearic Islands. The most impressive is the Torralba d'en Salort complex.
La Fortaleza de la Mola: An imposing military fortress built in the 19th century overlooking the port of Mahón.
Ciutadella: A place full of charm with its old town and port.
Maó: The island's capital, famous for its natural harbour and British-era buildings.
Talayots and navetas: Prehistoric remains that are a must on your visit.
The Pleasure of Menorcan Gastronomy
You cannot visit Menorca without enjoying its gastronomy. Mahón-Menorca cheese, lobster stew, sobrassadas, ensaimadas and Xoriguer gin are just some of the delicacies that await you.
"Menorca is a destination to be savoured with all the senses".
Whether you're looking for a place of tranquillity to relax, a natural paradise to explore, or an environment full of history and culture, the island of Menorca has it all. Are you ready to embark on this fascinating journey? Here we go! Outdoor Activities For the adventurous, Menorca offers a variety of activities including:
Hiking: To discover the island on foot.
Diving: To explore the island's rich marine life.
Cycling: To cycle around the island and discover hidden places.
Nightlife
In Menorca, the night has its own charm. From terraces overlooking the sea to live music clubs, there is something for everyone.
The Comfort of Travelling around Menorca by Hire Car
The Comfort of Travelling around Menorca by Hire Car
The best way to explore all these wonderful destinations is looking for a rent a car Menorca, because it's a small island and easy to get around by car, allowing you to get to places off the beaten track and discover the true essence of the island at your own pace.
Benefits of Car Hire in Menorca
Freedom to explore the island at your own pace.
Ability to visit places less accessible by public transport.
Time saving and convenience.
Conclusion
Menorca is a destination that invites you to explore, to discover, to enjoy nature, culture and gastronomy. It is a place to relax and disconnect, to lose yourself and find yourself. And there is no better way to do this than with the freedom offered by a hire car.
So don't wait any longer and come and discover the treasures that the Menorca island has to offer, we are waiting for you with open arms!